ISO 26000: Social Responsibility in 21st Century Management
Dr. Donna M. Schaeffer, Marymount University and Dr. Patrick C. Olson, National University
The International Organization for Standardization (ISO) is a network of public and private standards institutes in 157 countries: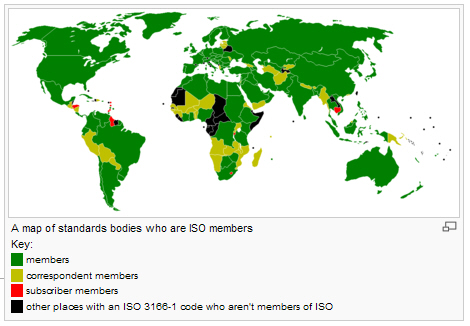 (Source: Mapserver)


Member institutions may be public, or private:
| | |
| --- | --- |
| Hellenic Organization for Standardization | American National Standards Institute (ANSI) |
| Nigerian Organization for Standards | Instituto de Normas Técnicas de Costa Rica. |
Some commmonly adhered standards:
ISO 14000: Greenhouse Gases: How to quantify and report emisssions

ISO 15830: Design and performance specifications for a 50th percentile male side impact dummy
ISO 17090: Digital certificates for providing security for the transmission of electronic health care records
Why is a Standard Important?
Organizations must provide products and services that satisfy the customer


Environmental concerns (see The Story of Stuff )


There is little agreement on what the term "social responsibility" means


There are high-level movements, such as the United Nations Universal Declaration of Human Rights , the UN Global Compact , and the International Labour Organization (ILO) ; and individual-level efforts from individual organizations, such as Body Shop , Gap Project Red , and Intel.


Challenges of globalization


Increase in poverty levels
Legislation:
Justifiable
Rarely the only method of dealing with the problem.
Static
Top down
Standardization
Bottom up
Dynamic
Based on voluntary action, consensus and openness so it brings about positive commitment
Leads to greater awareness and wider observance of existing legislation and regulation
ISO 26000: Social Responsibility
assist organizations in addressing their social responsibilities while respecting cultural, societal, environmental and legal differences and economic development conditions;


provide practical guidance related to operationalizing social responsibility, identifying and engaging with stakeholders, and enhancing credibility of reports and claims made about social responsibility;


emphasise performance results and improvement;


increase confidence and satisfaction in organizations among their customers and other stakeholders;


be consistent with and not in conflict with existing documents, international treaties and conventions and existing ISO standards;


not be intended to reduce government's authority to address the social responsibility of organizations;


promote common terminology in the social responsibility field; and


broaden awareness of social responsibility.